Today we have with us Sridhar H.R., who is an academician, quiz master, logo designer & a branding fan!
He has been working as an Assistant Professor, MBA Dept. at BMS College of Engineering, Bangalore for the past 10 years!Apart from this he has a side hustle, a quizzing firm called 'Th.ink Quizzing' where his designation is the Chief Thinker & Quiz Master ! She has hosted around 100 quiz shows for different audience from schools, colleges to corporate on topics ranging from Business, sports, general quiz to niche topics like cinema and coffee.
As a logo designer he has worked with business establishments who wanted to 'leave their mark' (literally & metaphorically) in their area of business. He has designed logos for 20 businesses across various sectors like sports, jewels, e-commerce, salon/spa, education, media etc.And I have been his student albeit a short while I was studying MBA. It is such an honour to have you here Sir.
Welcome to my show!I am very excited for this interaction as we have someone who personifies MBA- i.e; Marketing, Branding and Advertising!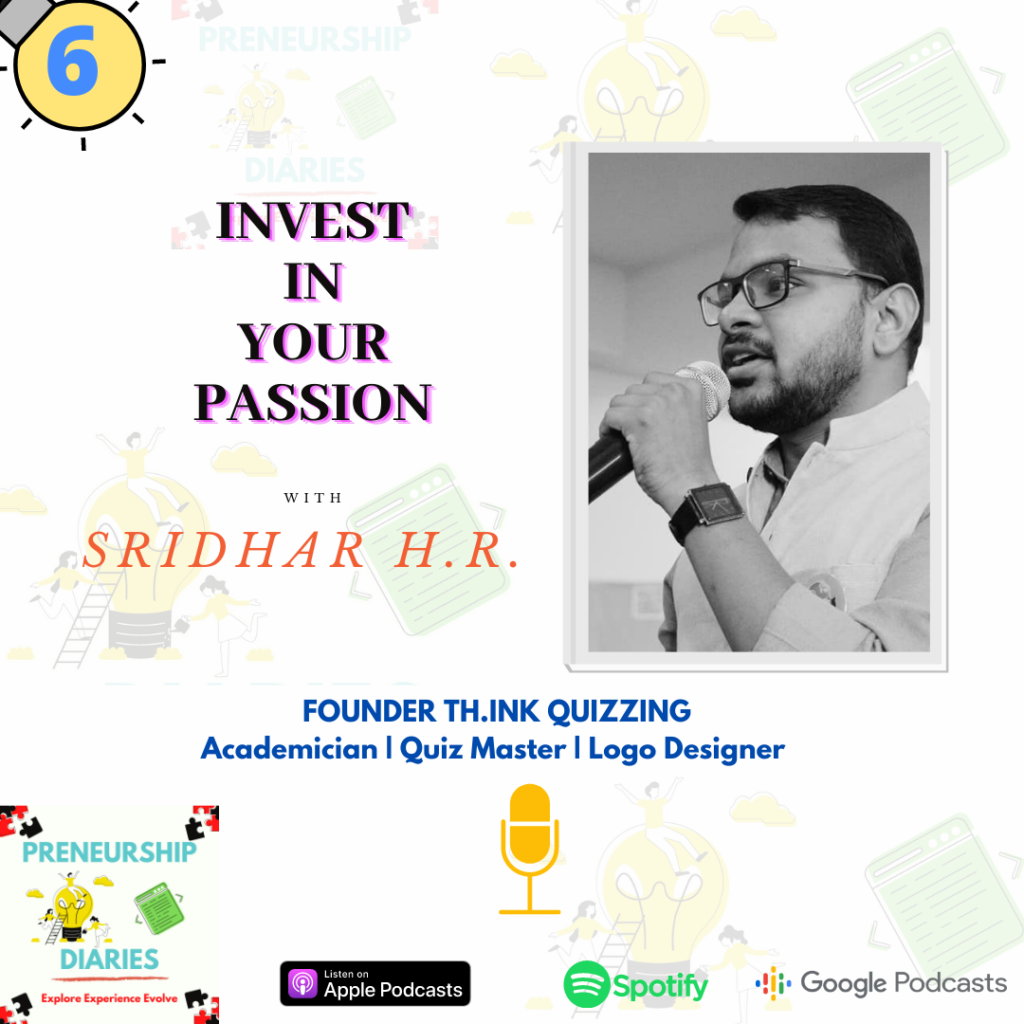 Highlights of the Talk:
Need for skill-based education system
Financial education should be taught right from School
Characteristics that make a Quiz Master
Investing in our Passion is important
Logo Designing and the legal aspects
Marketing Strategies depend on Product/Service, Stage of the Business and Target Audience
Always offer what you have promised to the customer/client
Sridhar H.R. can be reached out at thinkquizzing@gmail.com
1. Facebook – https://www.facebook.com/th.inkquizzing
2. Instagram – https://www.instagram.com/th.inkquizzing/
3. Website – http://www.thinkquizzing.com/
You can follow me on on the below handles:
Pinterest- https://in.pinterest.com/ShwethaCKrish/
Instagram- https://www.instagram.com/shwethackrish/
LinkedIn- https://www.linkedin.com/in/shwethakrish/
YouTube- https://www.youtube.com/channel/UCq4UdnW6j1PCI4SYzbAmAGQ
Website- https://shwethakrish.com