Today we have with us Julie Xavier, who is an amazing baker and a very lively and enthusiastic person that I know.
She started her baking venture Sinful Gourmet, which offers a host of unique recipes to choose from likeBakes:  Cupcakes, Tea cakes, Celebration cakes, desserts, cookies and lots more, Savory:  Salads, cutlets, traditional curries, breakfast recipes.
Sinful Gourmet Sugar N spice was rolled out in 2018 to showcase healthy, indulgent and delectably flavourful recipes from her kitchen counter into the homes of home-chefs.Bottom line- Sinful Gourmet Style recipes are an amalgamation of healthy and tasty eating.The aim is to share with people some easy to make, feel good and scrumptious meal that can be whipped up in few minutes and also taste delicious.
The instagram handle of Sugar and spice features step-by-step recipes, restaurant reviews, food-inspired travel, even store sneak-peaks about artistic table ware, organic veggies and lots more.
Well, I am sure this is going to be a mouth-watering episode!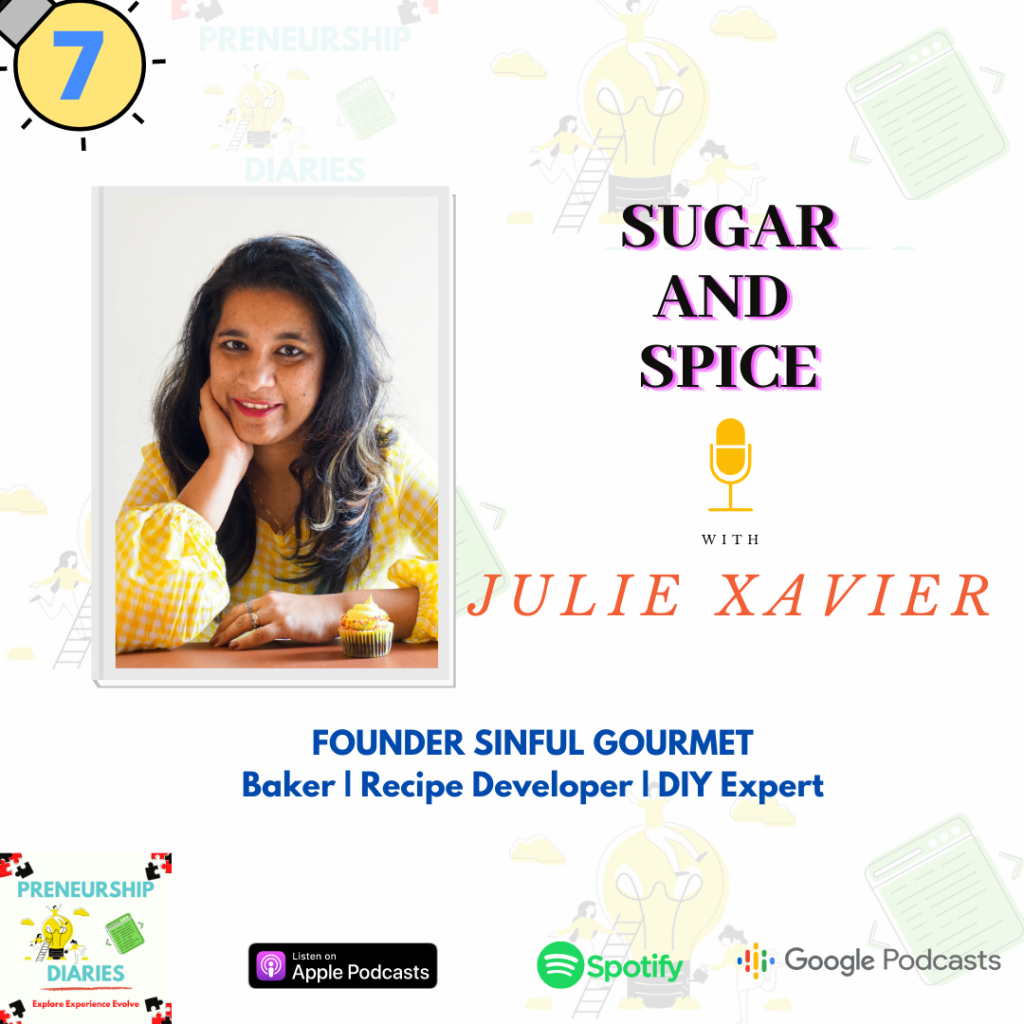 Highlights of the Talk:
Choose your Dream and never regret that you didn't try it out
You can find Inspiration right around you, all you need is a clear intention to learn
Presentation of food is also important apart from Cooking/Baking
Exploring cuisines from around the world can be a good learning to create recipes
Baking / Cooking equals JOY
Well-being is of utmost importance
Julie Xavier can be reached out at sinfulgourmetsns@gmail.com
1. Facebook – https://www.facebook.com/sinfulgourmet19
2. Instagram – https://www.instagram.com/sinfulgourmetsugarnspice/

You can follow me on on the below handles:
Pinterest- https://in.pinterest.com/ShwethaCKrish/
Instagram- https://www.instagram.com/shwethackrish/
LinkedIn- https://www.linkedin.com/in/shwethakrish/
YouTube- https://www.youtube.com/channel/UCq4UdnW6j1PCI4SYzbAmAGQ
Website- https://shwethakrish.com