Today we have with us Priyaram Bindiganavile, who is the founder and Chief Market Strategist of SRIMANTHA!
He has been a successful trader with a rich experience of 10 years and a Trainer in the areas of technical analysis, trading psychology, personal motivation and risk management.He is an engineer by qualification and was a Software Engineer and currently a Software Consultant(15 years of Corporate Experience)He was also a National Level Basketball player and is an ardent traveler and Adventure sports/Wildlife enthusiast.
He is currently living in Bangalore with his family. I have been through his course and I am so elated to share his motivating story with you all and through my Podcast I want him to spread  the awareness and also to share the importance of being financially independent with you all.
"Our Vision is to impart Financial Education to children, Offer Stock Market as a career opportunity to youngsters and make people Rich by making them understand secrets of the Rich. Offer this knowledge at a very affordable cost or free and in understandable language and way."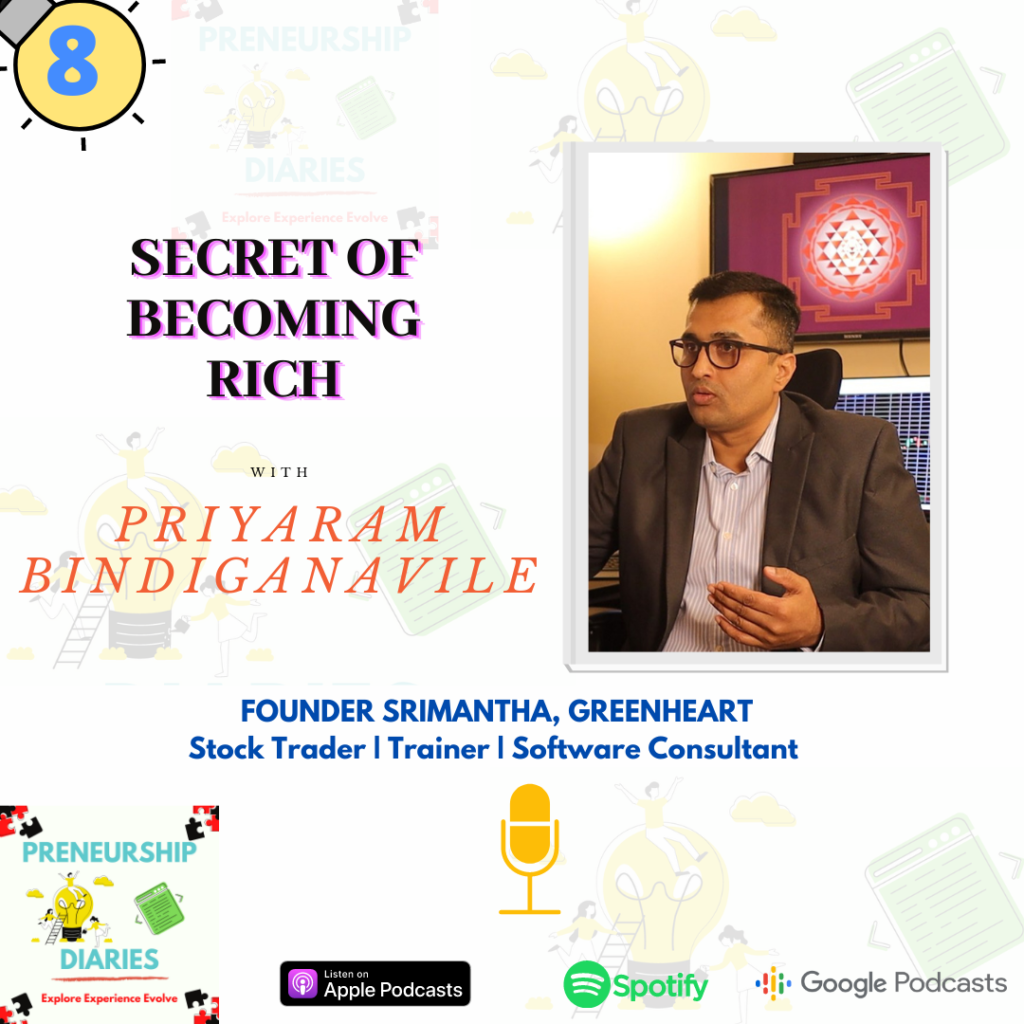 Highlights of the Talk:
Anyone above 18 years of age can do Stock Trading
All one needs is a Laptop/Desktop/Mobile Phone and Internet Connection to get started
One can start with any budget and at anytime
Stock Trading can be a Career
Importance of Meditation in Stock Trading
Well-being and Productivity
Priyaram Bindiganavile can be reached out at iamsrimantha@gmail.com
1. Facebook – https://www.facebook.com/IAmSrimantha
2. Instagram – https://www.instagram.com/iamsrimantha/
3. Website – https://srimantha.in/Home/

You can follow me on on the below handles:
Pinterest- https://in.pinterest.com/ShwethaCKrish/
Instagram- https://www.instagram.com/shwethackrish/
LinkedIn- https://www.linkedin.com/in/shwethakrish/
YouTube- https://www.youtube.com/channel/UCq4UdnW6j1PCI4SYzbAmAGQ
Website- https://shwethakrish.com