Today we have with us Shivani Aggarwal.
Shivani is a self taught artist and designer.  A Computer Science and Math major from the University of Waterloo, she worked in the software industry, before she re-discovered her childhood passion for art. As she set out on a journey in self-discovery where she met her Spiritual Master, Art became a medium for her to reconnect with her own inner intuition and knowing (something the education system had completely denied to her).
She began ShivaniArtandDesign in 2017, through which she holds yearly exhibitions of her art, along with designing various products from her art that she sells during the festive season. She has also designed a range of products with the Isha Life (coasters, lampshades, notebooks, scarves etc.). Along with this she takes up freelance design work of Logos, packaging design, fabric design, wedding card designs, and customized painting work.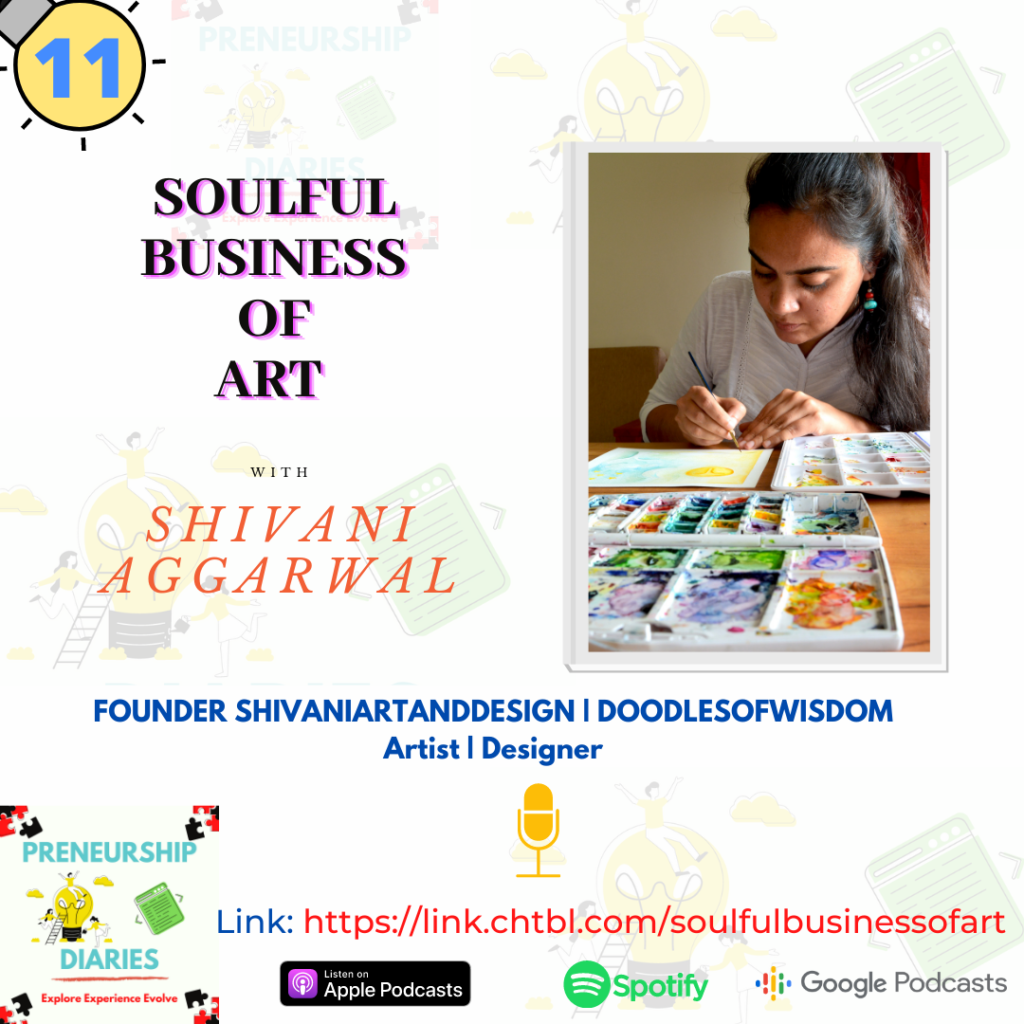 Highlights of the Talk:
Shivani's journey of exploration on the Spiritual Path
Career in Arts can be lucrative as long as you figure out how to make it commercially viable
Indian mindset needs to change on buying Art from Urban artists and also finding avenues to display Art can be challenging
Exploring Arts is the in-thing now this Pandemic
Productivity
Well-being – Consciously engage with anything that you are doing
Volunteering can be a way to learn about ourselves
Keep at it no matter what with 100% involvement
Shivani Aggarwal can be reached out at doodlesofwisdom@gmail.com
1. Instagram – https://www.instagram.com/doodlesofwisdom/
2. Instagram – https://www.instagram.com/shivaniartanddesign/
3. Facebook- https://www.facebook.com/shivaniartanddesign/

You can follow me on on the below handles:
Pinterest- https://in.pinterest.com/ShwethaCKrish/
Instagram- https://www.instagram.com/shwethackrish/
LinkedIn- https://www.linkedin.com/in/shwethakrish/
YouTube- https://www.youtube.com/channel/UCq4UdnW6j1PCI4SYzbAmAGQ
Website- https://shwethakrish.com