Namaste!
Hope you listened and enjoyed to the previous episodes of Being Doing Having Series where I spoke on BEING and then on DOING!
Today I am going to talk about HAVING!
For the human kind, Desire is the basis of Life.LIFE IS DESIRE and Desires are unending! There is no doubt about that.Right from the time we wake up, desires come into play. Desire to Get up from Bed, Brushing teeth, Taking a shower, Going for a walk, Cooking, Cleaning, Teaching etc. all these are desires.You could have a desire to play an instrument, travel the world, head a company, desires can be innumerable and that is absolutely fine!
All that matters is – Are they Conscious?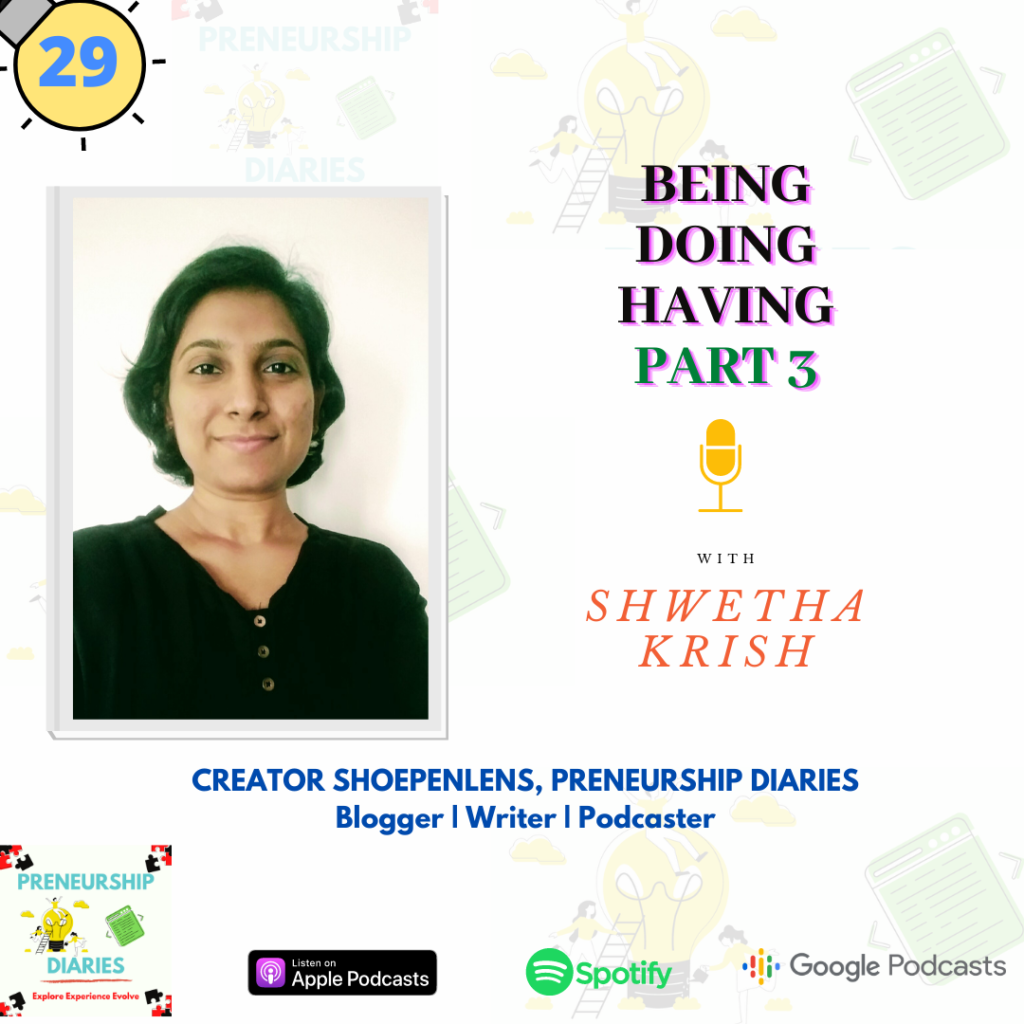 Desires can lead to misery when it plays out as a reaction to the social situations. For instance, my neighbour has a fancy car, I also need one. My colleague has a Villa, I also need one.Desires can turn out sour or lead to frustration when done compulsively. Unfulfilled desires do cause misery.We as human beings long to be more than what we are, we certainly want to go beyond our limitations – Desire to be more than what we are, needs to happen consciously and not in reaction to a social situation or comparison.
Considering this is the last part of BEING-DOING-HAVING Series, I want to share an experience with you all that certainly had the volition of BEING DOING HAVING ingrained in that experience.Well, I have been a trekker since my early 20s.
At that point in time, Trekking used to be a race to reach the peak. It didn't matter what route I took, I just had to reach the peak, and probably I was physically testing myself!In my late 20s, when I got back to Trekking, my body didn't have the stamina to rush up the mountain and especially Himalayas is an entirely different ball game.In a couple of years' time, I was working on my Wellbeing with Yoga and Meditation. A friend of mine suggested we go on the Annapurna Circuit Trail in Nepal. I was a bit worried if I could make it to the topmost pass and whether I could bear the altitude. Although I had trekked in the Himalayas for 3 years then, I still had my reservations. My friend and I decided that we would take it slow and enjoy the journey and if we can take it across the topmost pass at almost 18000 ft then so be it. If not , it is totally ok. With this mindset, through all the 15-20 days, we completed the Annapurna Circuit Trek successfully!
If interested you can read about this on my blog-https://trystmyworld.wordpress.com/2019/07/03/the-annapurna-circuit-abode-of-solitude/
And this experience totally relates to BEING DOING HAVING i.e;BEING – where I had and was working on my wellbeing without any agenda. DOING – Trekking up the mountains, enjoying the views every moment and living it every second. Just doing what was needed at that point in time on any given dayHAVING – Having and Adding ofcourse the Annapurna Circuit Trek to my kitty of accomplished Treks where I didn't bother about the results and the outcome.BEING – DOING – HAVING has become my Life. There are no frivolous desires, just conscious ones to sail through and enjoy Life to its fullest.I hope you have enjoyed this series of BEING DOING HAVING!
Change starts with us to make a better world and a safe haven for the future generations to prosper.It all starts with you and me.
To quote Mahatma Gandhi – 'Be the change you wish to see in this world!"
You can follow me on on the below handles:
Pinterest- https://in.pinterest.com/ShwethaCKrish/
Instagram- https://www.instagram.com/shwethackrish/
LinkedIn- https://www.linkedin.com/in/shwethakrish/
YouTube- https://www.youtube.com/channel/UCq4UdnW6j1PCI4SYzbAmAGQ
Website- https://shwethakrish.com