Today we have with us Nithya J Rao, recognized by India Today as India's Top 25 Entrepreneurs to look out for!
She is a psychologist and an entrepreneur.
As a rehabilitation psychologist she has spent nearly 10000 hours working with young adults and entrepreneurs in therapy. She primarily works with resilience, grief, loss and trauma and her work is influenced by Indian philosophy, business coaching, entrepreneurship, and religious study.
She is a co-founder of Heart It Out, a mental health and wellbeing start up that has impacted over 20000 lives, she wishes to bridge the gap between theory and practice of psychology. And what makes Heart It Out unique is that they provide therapy in 11 Indian languages.
She is one of the creators of Lahe Lahe, a performing arts and expression space in Bangalore which has brought together over 2000 artists and creators and over 2 lakh people through its various events. She is also the founding member of Katharsis Productions, a theatre production house aimed at bringing real life stories and lived experiences to the stage.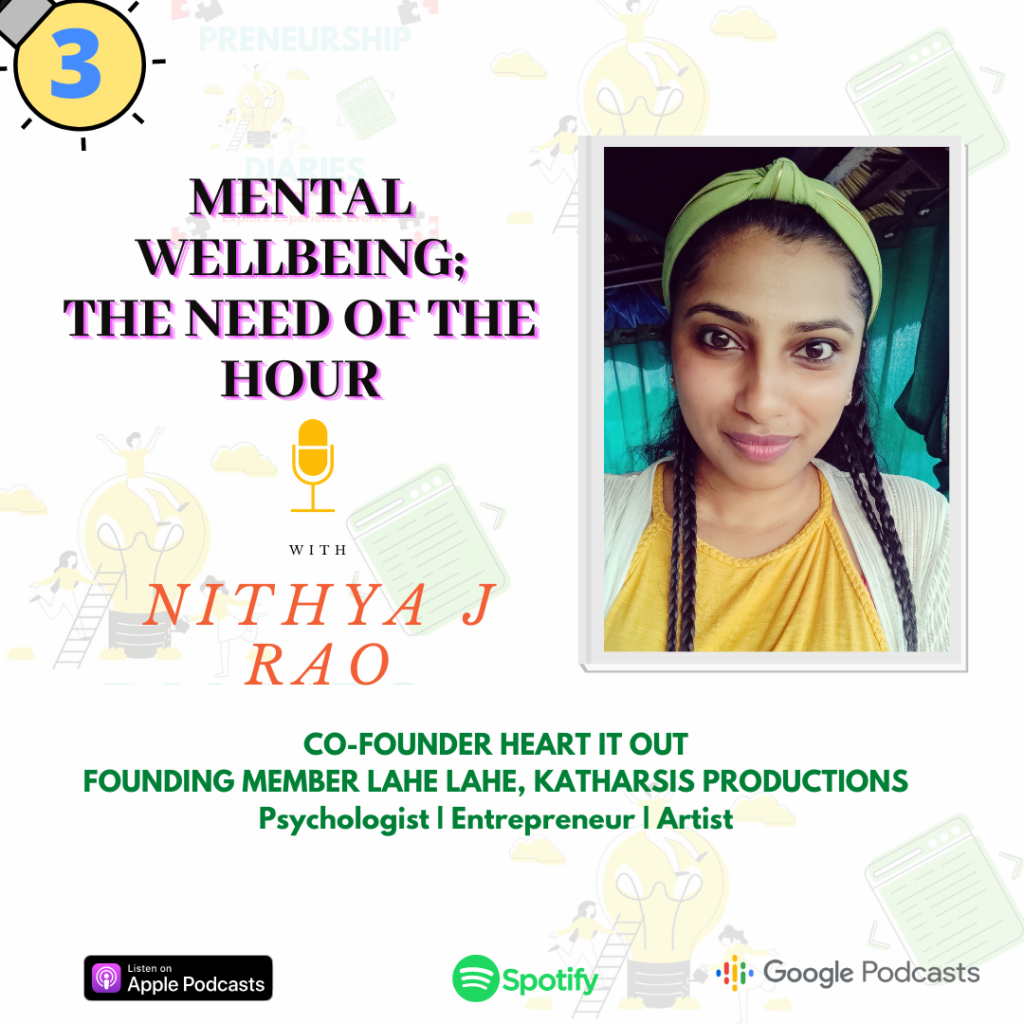 Highlights of the Talk:
1. Nithya's 3-4 successful ventures, her journey through the challenges and her learnings
2. Heart It Out's therapeutic services3. Mental Health Pandemic, what can be done as a Community, Society, fellow human being
3. Leveraging Technology, Social Media to reach more people- Heart It Out's journey.
4. Social Media usage, Mindful watching, Psychosomatic issues
5. The school of therapy in India(Peek into different kinds).
6. Wellbeing

Nithya can be reached out at nithya@heartitout.in, you can follow Heart It Out Social Media Pages
1. Facebook – https://www.facebook.com/HeartitOut.in/
2. Instagram – https://www.instagram.com/heartitout/

You can follow me on on the below handles:Pinterest- https://in.pinterest.com/ShwethaCKrish/
Instagram- https://www.instagram.com/shwethackrish/
LinkedIn- https://www.linkedin.com/in/shwethakrish/
YouTube- https://www.youtube.com/channel/UCq4UdnW6j1PCI4SYzbAmAGQ
Website- https://shwethakrish.com