Today we have with us Vivian Christopher Rajan
Born and raised in Bengaluru, Vivian is a self-taught drummer renowned In the music circuit for his critical thinking in music, mathematical consistencies, improvisation techniques, versatility and aesthetic and artistic ability. He graduated Grade 8 from Trinity College of London.With the idea and aim that knowledge and art is best experienced when shared, he started his brainchild 'Sound & Silence Music Academy' in 2015, A creative space which taps hidden potential of budding musicians, the school offers varied curricula in Western vocals, drums, guitar, keyboard and violin and mentors students for examinations conducted by Trinity College, London.World Music Conservatory, Artista Music Academy and Echo Music Academy are some of the institutes where he was a guest lecturer.
As an active drummer in the indie music circuit, he contributes his skills and performs with diverse bands such as the country's best parody rock band "LIVE BANNED", and have played in the past for rock band 'Dark Light', the psychedelic progressive rock band 'Traces' and jazz band 'Maztrz'. Played as a Sessions drummer for artists and groups like Ananya Bhat, Sanjeev Thomas, World renowned Bass player Sir. Keith Peter, Girish Pradhan for 'Banned Medicine', Ananth Menon Trio, Sylvester Pradeep and 'The Burning Deck' has expanded my horizon.Previously, he has played a solo at a corporate gig called Hackathon , KTPO, has performed percussion with eminent DJs from India and across the globe also have been playing at the prestigious event, Fete de la Music 'World Music Day' organised by Alliance Francaise since 2007 and have judged quite a few battle of the bands in the country.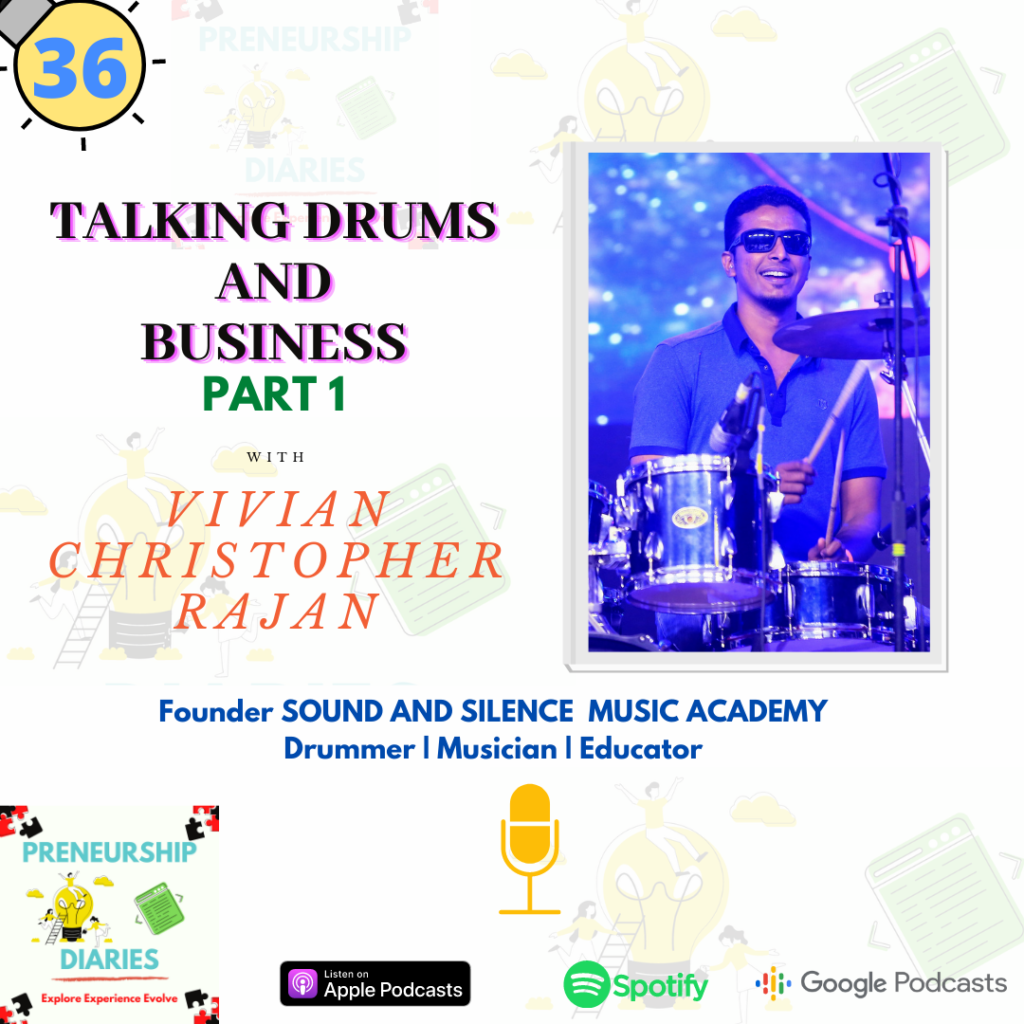 Being part of full-length studio albums conceived by bands like 'White Mug', 'Dark Light' and 'Traces' and working with various artists like Mr. Edsel Correya, Mr. Yash Gowda, Mr. Khussh Mehta and several others for studio tracking has helped him deepen his understanding. Had been part of Australia's Oriental / Indo/ Latin Jazz fusion guitar maestro – Peter Dickson too.
Not wanting to limit himself, he leapt towards 'mridangam' to understand the tradition and intricacies of percussion in the Carnatic style. He is currently learning under the world renowned Vidwan Shri. Amrit Khanjira.He was a recipient of the 'Best Drummer Award' from YAMAHA at Asian Beats festival, 2010. I have also received laurels in college fests such as New Horizon MVJIT and lots more.
Highlights of the Talk:
Vivian's interest in Music especially Drums and choosing that as his career
Experience of being a Drummer, Musician
Learnings and Challenges from his first venture-Rehearsal Studio
His experience of setting up his Music Academy- Learnings, Challenges, Current Projects
His favorite performances – Highlights
Vivian can be reached at vivian.chris@gmail.com
Instagram: https://www.instagram.com/snsmusicschool/
Facebook: https://www.facebook.com/soundandsilencemusicacademy
Instagram: https://www.instagram.com/vivian_christopher_rajan/
Facebook: https://www.facebook.com/VivianChristopherR

You can reach me at:
Pinterest- https://in.pinterest.com/ShwethaCKrish/
Instagram- https://www.instagram.com/shwethackrish/
LinkedIn- https://www.linkedin.com/in/shwethakrish/
YouTube- https://www.youtube.com/channel/UCq4UdnW6j1PCI4SYzbAmAGQ
Website- https://shwethakrish.com