Today we have with us Daniella Schoeman
Daniella Schoeman is a travel writer and content creator from South Africa. She is the founder of the travel blog, Our Soulful Travels and the content marketing agency Biz & Content Alchemy. Since 2017 she has been a part-time traveler exploring the world and writing about her experiences for own platforms as well as publications such as Culture Trip, DRIFT Travel Magazine, Luxury Lifestyle Magazine and Beau Monde Traveler.
In 2020 she was appointed as the Associate Editor and senior travel and wellness writer for Rare Magazine. These associations and the resulting bylines have allowed her to work with a variety of travel brands such as airlines, hotels, tourism boards, spas, restaurants and more.
Over the past 3 years she has received over $50 000 worth of sponsorships from tourism brands. Now, she has turned her attention to helping aspiring travel writers accomplish this too through her course Pitch to Travel and other educational resources.
You can connect with Daniella personally in her Facebook community, Wildly Successful Travel Writers.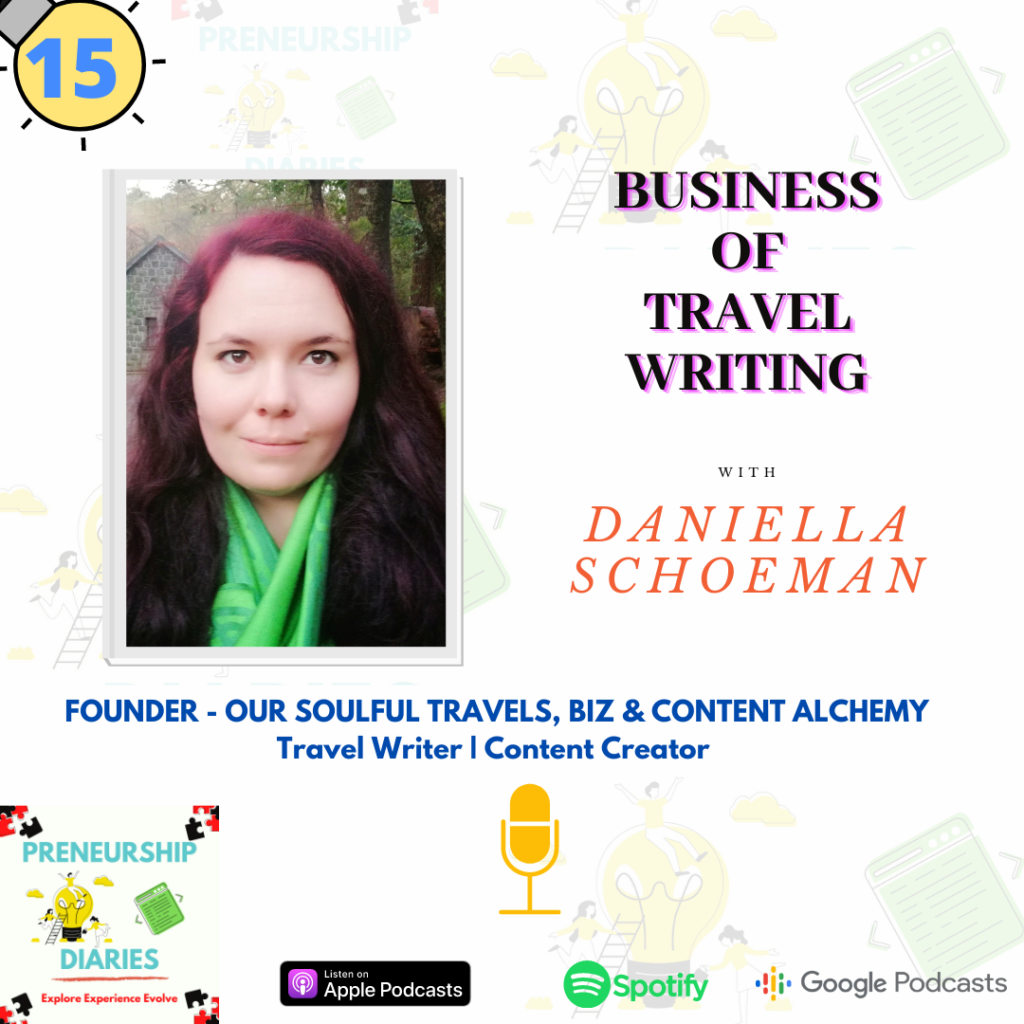 Highlights of the Talk:
Importance of exploring different avenues and it is never a waste of time but an opportunity to grow
With Internet, one can explore other avenues and also take up part-time engagements
Daniella's journey of being a Writer
Travel Writing; journey, pitching to be a travel writer, lucrative opportunities
Leverage other platforms' media
Journey of Our Soulful Travels
Ghostwriting
Entrepreneurial Challenges; Art of Saying No, Technological challenges, Timezones of Clients
Working with fellow writers; team and productivity
Wildly Successful Travel Writers Facebook Group
Pitch to Travel Course
Being Multipassionate
Wellbeing
Daniella can be reached out at
1. Website: https://oursoulfultravels.com/
2. Instagram: https://www.instagram.com/daniella_oursoulfultravels/
3. Facebook Page: https://www.facebook.com/groups/2674881679419008

You can follow me on on the below handles:
Pinterest- https://in.pinterest.com/ShwethaCKrish/
Instagram- https://www.instagram.com/shwethackrish/
LinkedIn- https://www.linkedin.com/in/shwethakrish/
YouTube- https://www.youtube.com/channel/UCq4UdnW6j1PCI4SYzbAmAGQ
Website- https://shwethakrish.com