Today we have with us Zitin Munshi
Zitin Munshi is the founder of 'Next Mile Co.' a startup that focuses on helping businesses grow, sustainably. She has over 8 years of work experience gained across various sub-sectors, organizations, and geographies as unique as Botswana. A passionate advocate of sustainable development, she also holds a Master's Degree in Development Economics from the University of London.Her experience spans across sub-sectors (youth livelihood, education and water, sanitation and hygiene), across geographies (India and Botswana) and across types of organisations (international non-profit, multilateral agency, multinational corporation and consulting firm).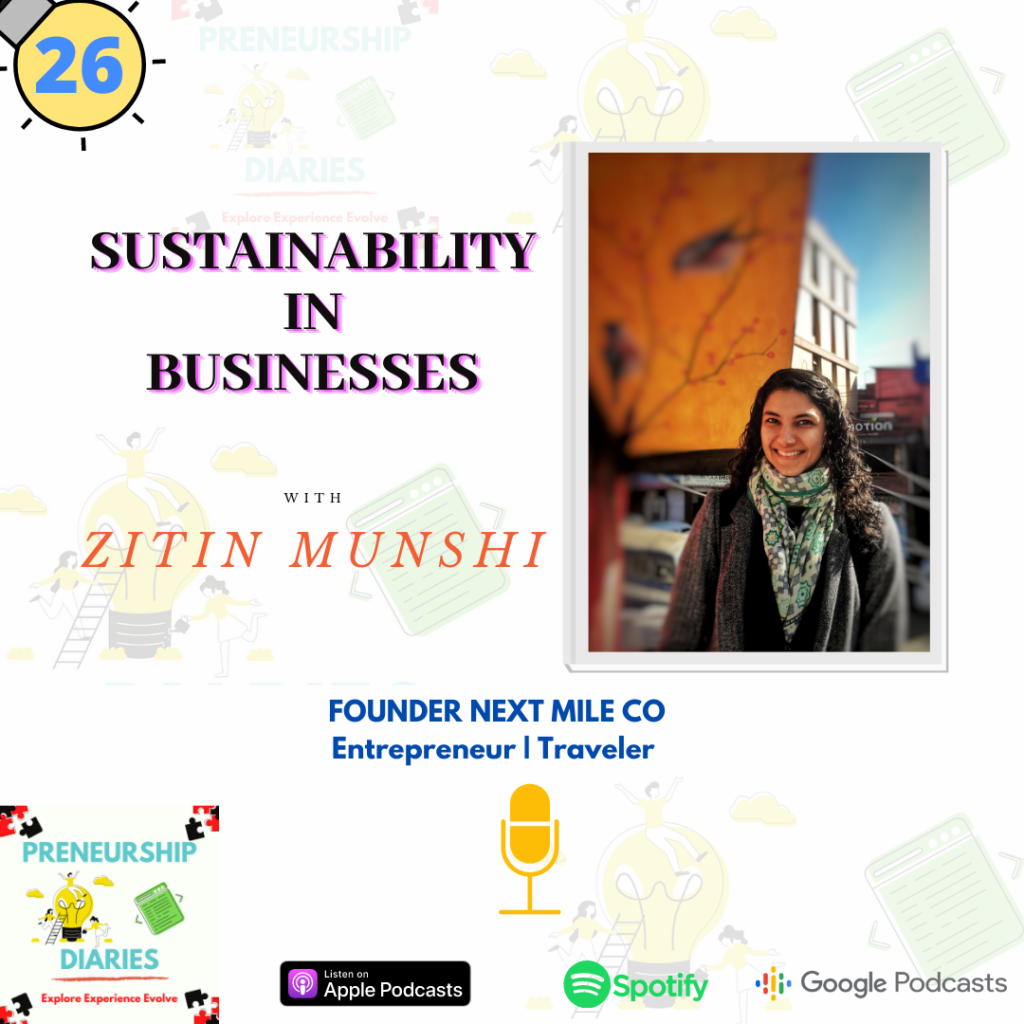 Highlights of the Talk:
Zitin's foray into Sustainable Development through Education, Research and Volunteering opportunities
Her Volunteering experience in Botswana
Starting Next Mile Co. – Services and Projects worked on
Challenges faced in setting up and running a business
Perspective on Sustainability in Indian businesses
How one can include Sustainability in everyday life
How Pandemic has turned out to be for Next Mile Co.?
Zitin's Wellbing routine and Travel stories
Zitin can be reached at zitin@nextmileco.com
Company: Next Mile Co.
Website: https://nextmileco.com/
LinkedIn: https://www.linkedin.com/company/next-mile-co/ 
Facebook: https://www.facebook.com/nextmileco
Instagram: https://www.instagram.com/nextmileco 
Youtube: https://www.youtube.com/channel/UClCAtlLAZ6XOwhbO05NDacQ

Zitin's Profile-
LinkedIn: https://www.linkedin.com/in/zitin-munshi-77206762/
Instagram: www.instagram.com/triptoewithzii (sustainable travel stories)
Podcast: http://linktr.ee/SustainabilitySimplified

You can follow me on the below handles:
Pinterest- https://in.pinterest.com/ShwethaCKrish/
Instagram- https://www.instagram.com/shwethackrish/
LinkedIn- https://www.linkedin.com/in/shwethakrish/
YouTube- https://www.youtube.com/channel/UCq4UdnW6j1PCI4SYzbAmAGQ
Website- https://shwethakrish.com