Working from Home has become the new norm and with that one big hassle is trying to stay productive.
Staying at home and working is fun, right until you feel that you are overworking or not getting things done on time.
Setting up the work environment at home is very crucial. Distractions can be plenty when working from home, let's see how we can ease out a structure and space to get the work done without any hassles.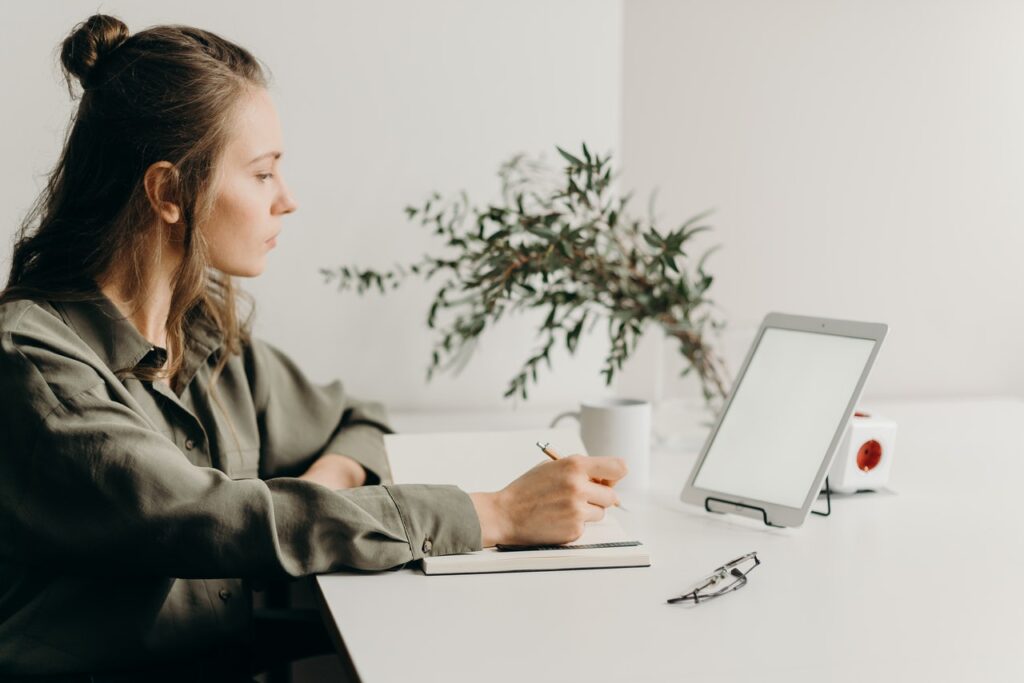 10 tips to be productive while Working from Home–
1. Schedule your day-
A structure to your day is very much essential as you might get lost with distractions or household chores. Make sure you pick the timings for work and it is always best to adhere to the work timings strictly as you would in your office. Make sure you set aside time for lunch, calls with your team or colleagues or boss. Just like you would jot down the tasks / list of things to be done while at office, make sure you follow a similar structure / list when working from home. Take necessary water breaks which would help you to refresh and rejuvenate.
2. Pick your working space or nook-
Designate a working space for yourself at home. It could be a separate room or a space at the corner of the room or at the dining table or a space away from people and distractions. Make sure you don't choose your sleeping area or bedroom for your working space as this could overlap your sleeping and working energies. You need a space to work at ease and focus on the tasks at hand. Decorate your working space with positive, motivating pictures or keep a plant.
3. Take sufficient breaks-
To increase productivity, make sure you take regular breaks(probably 10 mins every hour). This could help you unwind from the task at hand and make you think with clarity. If you are a creative professional, taking breaks and involving oneself in activities certainly improves the quality of work needed to be done.
4. Dress up for work-
Well, don't make your pajamas a daily wear to your working space. Taking a shower, getting ready for work certainly prepares your mind for the work ahead. It brings about a certain sense of responsibility and importance to the tasks at hand. Also, it clearly segregates the time of work and time with family.
5. Set boundaries for work, family time-
Inform your family about your working space and timings so that they won't disturb you. Plan ahead and keep things handy that you would require for work and don't make frequent visits to other rooms for files or stationery items or water bottle or mugs if need be. Ensure your breaks doesn't interfere with your family's work and routines, you need to respect the time and space of others as well.
This also applies for your family time. Make sure you switch off from work completely when spending time with family. Keep aside some time after work to talk with your family, play, cook and do certain activities with your parents / children / partner.
In our zest for work, from the comforts of our home, at times we neglect or take our family for granted. Make sure you balance both work and family time.
6. Set aside time for reading or painting or listening to music-
Add in a variety of activities to indulge in while working from home. It could be during your breaks or set aside a separate chunk of time for your hobbies or activities. This could bring out the creative side of you, nurture the artist within and also help one to focus and unwind from the routine tasks at hand.
7. Keep away from social media platforms while at work-
Spending time on social media platforms could hamper your work unless you are a Digital marketing professional or a Web / App designer. Make sure you stay away from your personal social media platforms. Set aside some time in the evening to browse through or to connect on social media if need be. Also, keep away from personal calls during your working hours.
8. Start your day with an exercise or yoga routine-
It is always best to start your day with a Yoga routine or exercise routine. This would help you physically and mentally to take on the day with ease. You could also tweak in some workout routines after your work or meditation during the noon. A sound mind and a sound body is very much essential for facing challenges and helps one to meander through work or problems effortlessly.
9. List down things to do at work and household chores-
To-do lists for work and household chores is a must when your are prioritizing your tasks at hand. Segregating your tasks into the list below could be helpful. This applies to both your work and household chores:
Important and urgent
Important and not urgent
Urgent and not important
Not urgent not important
10. Get out of the house for errands, catching up with your friend or neighbour or just get out and greet the Sun or Moon-
It is also important to get out of the house for running errands, buying groceries or stationery. This helps one to interact with neighbors or people. If not spend some time on the terrace; breathing fresh air, exercising or just introspecting on your progress at work or any activities that need your attention. You can be in touch with nature through Gardening and working your hands with the mud and plants certainly keeps you grounded! Meditation or just some time when you can sit by yourself doing nothing but breathing can soothe and calm you.
Here are some 5 Steps to create Productive Routine while Working from Home.
Well, I know you can't wait to get started and try out the above. Let me know how this goes.
I shall be back with more tips on Productivity and how to beat the routine / boredom if any.