Namaste!
Hope you are doing well!
Well, it is Episode 52 and we have come to the end of this first season of episodes!
I have cherished interviewing 34 Entrepreneurs, 2 Couplepreneurs in the past one year.It has surely been a great learning for me; very insightful and I am sure the listeners out here had a wonderful time listening to various stories of change and perseverance!I am grateful for all the Entrepreneurs and Listeners for making this a wonderful Season 1.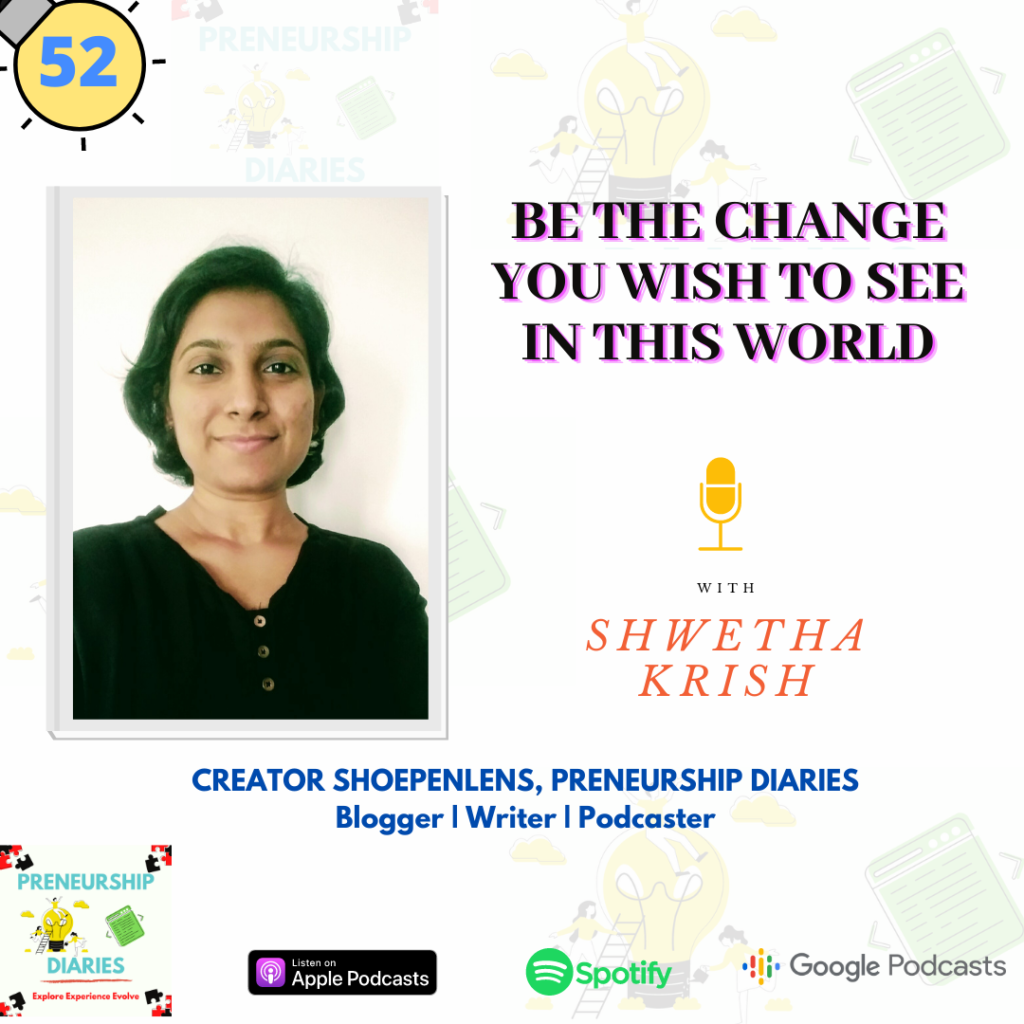 In the 50th Episode we spoke about 'WHY' one wants to start a venture or a business.
Today, I am going to talk about the Willingness to Make the Change!
I am sure we have seen great companies having their WHY in place and when they are out in the market, the Change is out there for everyone to see!
e.g; TATA, APPLE
Before one can figure out the WHY, it all starts with the WILLINGNESS TO MAKE A CHANGE, TO MAKE A BETTER WORLD!
With every Entrepreneur that I have spoken on my show, everyone had this one thought to make a change, to create something new for the benefit of others!That my friend is the start of a venture tied along with the inner journey!
As Mahatma Gandhi, quotes "Be the Change, you wish to see in this world!" So does every new idea, new concept, new venture, new perspective begins within oneself to create a better world!
You may ask how do I change myself or Why should I change myself?
To answer the WHY – Well, haven't you felt this at any point in your life, that things could have been better or it should have been handled well or quite simply things need to change for the benefit of everyone!
To answer the HOW – Tapping into yourself, any activity that one can do with utter involvement can lead to satisfaction and clarity! Meditation, Yoga, Dance, any Art form can help one to tap into their inner self.
From my own life experience so far I know it works and in an amazing way!
A request to all embarking on an independent journey or those who are working in companies or those who are Entrepreneurs, dive in and get to know yourself!
Because when one taps into the inner self, the inner journey, then the beauty of life unfolds and you can only make it better for yourself and others from here on!
As I always say, Invest in yourself and what you reap is surely going to be phenomenal!
So here is me ending Season 1.
Meet you soon in the next Season probably with something different or a different format or a different topic and ofcourse a different year.
Until then, Invest in yourself!
Please let me know if you want me to talk about any particular topic or concept. I would love to do that. You can reach out to me on Instagram @shwethackrish and other platforms too- The links are mentioned in this episode description.
You can follow me on on the below handles:
Pinterest- https://in.pinterest.com/ShwethaCKrish/
Instagram- https://www.instagram.com/shwethackrish/
LinkedIn- https://www.linkedin.com/in/shwethakrish/
YouTube- https://www.youtube.com/channel/UCq4UdnW6j1PCI4SYzbAmAGQ
Website- https://shwethakrish.com